NRM Ichthyology Collection — Academy Collection
---
NRM 37711
Pleuronectes flesus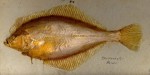 Current taxonomic status
Current name Pleuronectes flesus, family Pleuronectidae (Teleostei: Pleuronectiformes: Pleuronectidae).
Specimen data
1 specimen, ca 180 mm SL, mounted on paper. Apparently from the collection of the Royal Academy of Sciences.
Remarks
Hand-written on the back of the mount:
Pleuronectes flesus var. oculis sinistris
Illegible text

Back side of specimen

Illegible text on back side of specimen, enlarged.
Author: Sven O Kullander (text, scanning)
Copyright © 1997 Swedish Museum of Natural History and the author.
Disclaimer: This document is not to be considered as published in the sense of the International Code of Zoological Nomenclature, and statements herein are not herewith made available for purposes of zoological nomenclature.
Museum Adolphi Friderici Fish Collection — Academy Fish Collection
---
The Linnaeus Web Server is maintained by the Swedish Museum of Natural History
http://linnaeus.nrm.se/zool/fish/P37711.html.en
Latest update: 21 January 1997
Comments about this page: Sven O Kullander
Comments about the Linnaeus Web Server