---
Peter Simon Pallas:Born 1741 in Berlin, Germany, Dr. med. 1759 in Leiden, worked 1761-1766 in Holland and England, in Russia 1767, member of the St. Petersburg Academyof Sciences, travelled 1768-74 in Ural Mts. and Western Sibiria, worked 1774-93 in St. Petersburg, travelled 1793-94 in S. Russia and the Crimea, settled in the Crimea 1795-1810, retired to Berlin 1810, died 1811.

Examples of Pallas's handwriting: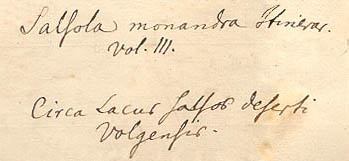 References:
Mejier, B. & Th. Westrin, reds. 1914: Nordisk familjebok, konversationslexikon och realencyklopedi, tjugonde bandet, Stockholm.
Stafleu, F. A., 1983: Taxonomic literature : a selective guide to botanical publications and collections with dates, commentaries and types. vol. 4, P-Sak. Utrecht.
---
http://linnaeus.nrm.se/botany/fbo/hand/pallas.html.en
Latest update: 2 March 1999
Comments on this page: Arne Anderberg
Comments on the Swedish Museum of Natural History website